Posted by Dream Mattress Organics on 10th Sep 2017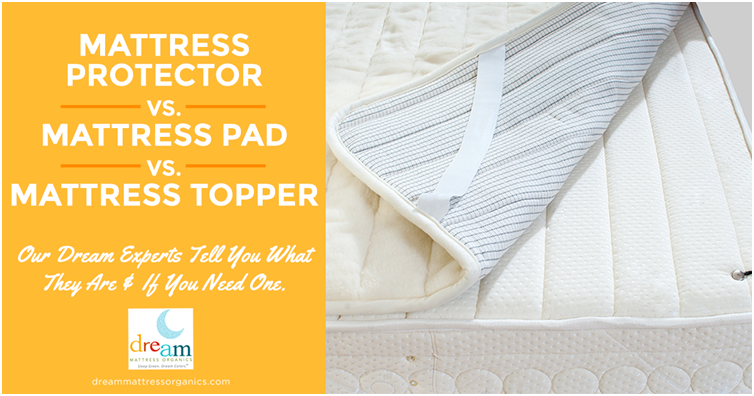 Companies selling bedding have many things to offer. It can be confusing. In a time when money counts and budgets are tight, having all the information so an informed decision can be made is important. When you purchase a mattress, you want to maximize the life of the bed where you will spend every night. Covering the mattress with a pad, a topper, or a protector are a few things you can do to add some extras to your rest. What are the differences between a Mattress Pad, a Mattress Topper, and a Mattress Protector? Find out below: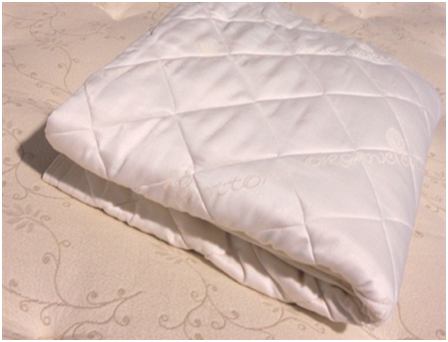 A Mattress Pad
These pads will protect a mattress from common wear and stains. It works like a fitted sheet, covering the entirety of the mattress. They offer a thin layer of padding which adds cushioning to the top for additional comfort. They usually have a layer of light plastic which has contact with the top of the mattress and a cushioned top for comfort. Mattress Pads are the best of the both worlds in mattress protection and comfort. They work best for the following issues:
You have an old mattress, but cannot yet replace it, but need to cover the whole mattress to give it an extended life.
You need to protect the top of your mattress and do not want the squeak of a plastic Mattress Protector under you while you sleep.
You want a reasonably priced way to protect your mattress and get a little extra plush under your body.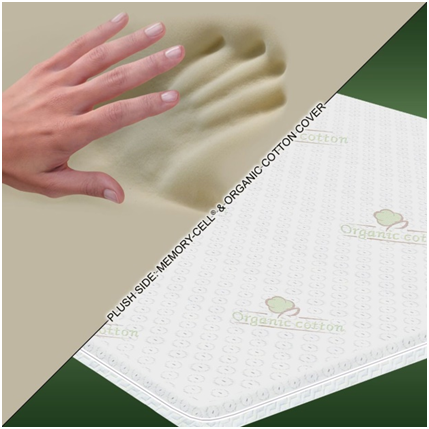 A Mattress Topper
A Mattress Topper is a piece of removable bedding that rests on top of the mattress. Mattress Toppers are made from a variety of elements and are used to add more comfort to your mattress. If your mattress has any limitations that do not perfect your sleep needs, the Mattress Topper fills in the gaps. They come in Down, Foam, Memory Foam, Gel Memory Foam, Cotton, Organic Cotton, Polyester Fiber-fill, Latex, and COIR. A Mattress Topper is for you if you have the following needs:
Your mattress is too soft and you need some extra support.
Your mattress is too hard and you need to add some plush comfort.
You have an injury, are pregnant, or suffer from a pain that requires your body be cradled.
You want temperature control that your mattress does not offer.
You want to add height to your bed so it is easy to get on and get off.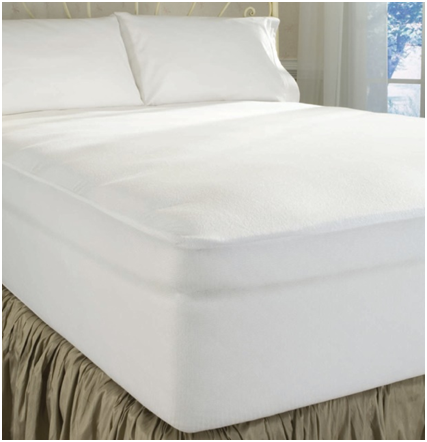 A Mattress Protector
Mattress Protectors cover the entire mattress or just fit on top flat, like a fitted sheet. A Mattress Protector keeps away moisture, dust mites, bed bugs, mold, dead skin cells, and they also protect against spills. Five sided protectors, or encasement protectors, offer the best bed bug protection. They keep dust and dreaded allergens away from the interior of the mattress so it will not hold onto the irritants. They can be waterproof or water resistant.
Waterproof means no water gets in and no water gets out. It is less breathable than water-resistant.
Water-resistant means water or liquids in limited amounts will bead on the surface, but it is not impenetrable.
Mattress Protectors come in traditional plastic, PVC free, and Latex materials, but also with fabric tops (so smooth you can sleep on it too). They are not padded, so think about pairing with a Mattress Pad or Topper. Don't forget to put a protector on your pillows too! The reasons you may want to use a Mattress Protector are:
Keeping gross stuff out of and off your mattress.
To keep liquids ad stains off your mattress (if you get a waterproof one.)
In summary, we recommend purchasing a waterproof protector if you need maximum mattress protection; or purchase a mattress pad for the minimal extra cushion which also gives you minimal mattress protection, or purchase a mattress topper if you need to change the comfort of your bed.
P.S. If you buy a mattress topper, you should purchase a mattress protector to put over and protect it.
Toppers, Pads, and Protectors all fit on top of the mattress and under the fitted sheet. Our sheets work very well with all mattress coverings because they have deep pockets. Deep pockets allow for extra inches needed when adding any type of covering to a mattress. Get your mattress suited up with any of these three, bedding accessory "must-haves," for a great night's sleep, tonight and for the entire life of your mattress!